Today we're On the Front Porch with food blogger Whitney Bond, where we asked her 16 quirky questions! Whitney is a huge fan of breakfast burritos, Taylor Swift, and coffee. Find out more about Whitney including the strangest item in her pantry and her favorite comfort food. Don't forget to read the rest of the interview on Whitney's blog!
Favorite comfort food? My Dad's Captain Crunch Fried Chicken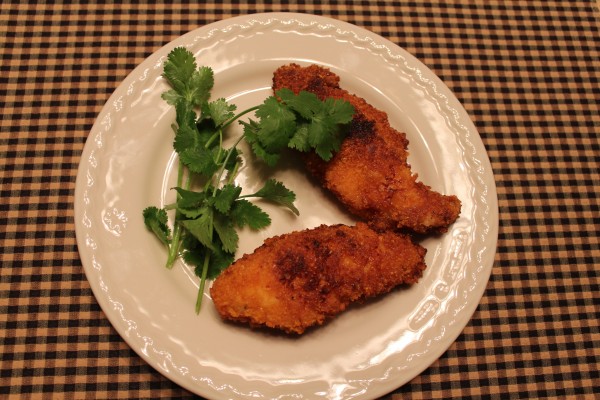 What are 3 words to describe your blog? Fun Delicious Recipes
Tell us about a time when you had major cooking fail (we've all had them!) Most of my cooking fails involve gluten-free baking… like crepes that were thicker than pancakes or biscuits that looked (and tasted) like hockey pucks! I've found that most of my gluten-free baked recipes have taken many attempts before finally making it to the blog! It took me three attempts to perfect this Gluten Free Strawberry Banana Bread!
Describe your dream kitchen! In one word, HUGE! Haha! I would love to have a large island in the middle of the kitchen, double ovens, six gas burners on the stove, a walk in pantry, and a 6' x 10' refrigerator, all of which would take up the entire living space in my current condo 🙂
How did you become interested in blogging? I became interested in blogging when I went back to school in my mid-twenties to study journalism. I had been following a couple of my friends blogs and thought that I should give it a try to practice my writing skills for school. I had NO IDEA that it would become a career!
Strangest item in your pantry? I currently have three jars of buffalo sauce and three bottles of Sriracha in my pantry. Why? Because I'm a saucy & spicy kinda gal 😉
Hardest part about blogging? Time management. With different social media platforms popping up almost every day, deciding how much time to spend creating new content for the blog vs. creating new content for the latest social media platform vs. maintaining an active presence on all current social media channels, is a very tough task.
Best part about blogging? Opportunities. The wonderful world of blogging has given me the opportunity to do amazing things, visit beautiful places, and meet fantastic people that I would never have had the opportunity to do in another career setting.
Head over to Whitney's blog for the rest of the interview!
Are you a blogger? Apply to the Porch Blogger Program, we can't wait to hear from you!