We asked Wendi from H2O Bungalow 16 quirky questions! This DIY blogger loves transforming her coastal cottage and sharing her journey along the way. Today, Wendi's answering some of our questions including her biggest DIY fail, and words of wisdom for someone remodeling on a budget. Head over to H2O Bungalow for some DIY inspiration, and to read the rest of this interview!
What's your DIY weapon of choice? That's a tough one because I love power tools and building, but if I had to pick only one weapon, it would be a paintbrush hands down.  Give me a paintbrush and I can transform pretty much anything.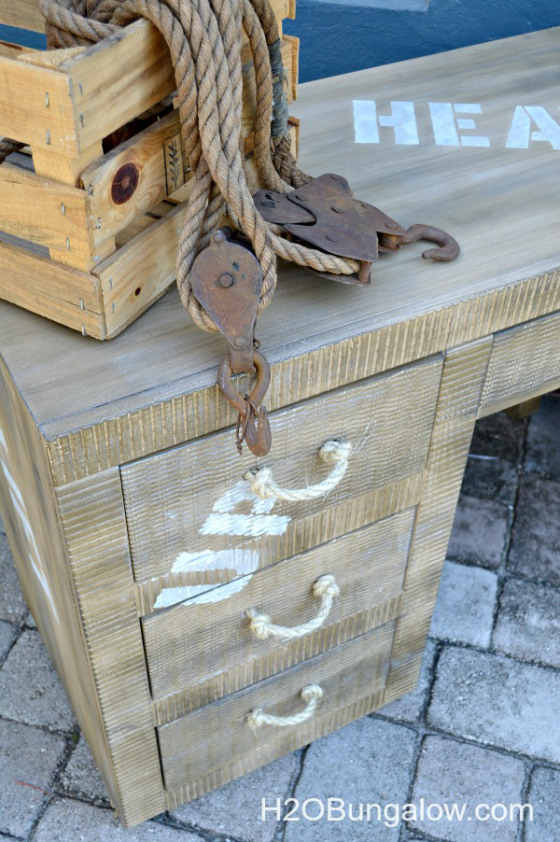 Painted Wicker Furniture Makeover
What are 3 words to describe your blog? Reinventing, Coastal & Creative – I had to think about this for a while so many descriptions came into my head. Most of all, reinventing because we purchased a project house with great potential that needed a ton of work.  Many of my projects are ways to reinvent a part of the house or a challenge spot, like our 7 foot wide dining area, into something fantastic and pretty. I choose coastal because we've embraced the coastal lifestyle of living in a beach town and on the water.  Of course to me, the creative part is just the fun part of using my imagination in every project I get to share.
Tell us about a time when you had a DIY fail (we've all had them!) Yes we have! I'm just finishing up my biggest one, ever.  I had an opportunity to refinish some vintage kitchen cabinets on a recent trip to Dallas.  I've stripped lots of furniture and doors and thought this project would be a 3 day project from start to finish. That's a day for stripping, a day for prepping and a day to paint. That seemed completely reasonable to me. I spent all three days stripping them and didn't even finish that part. There was at least 8 thick coats of paint on them, and all the tricks I knew and then some wouldn't get the paint off! I flew back last week just to finish them. I spent another two days stripping and sanding, another full day of cleaning and prepping them and a day and a half to paint them.  Whew! It was a complete misjudgement on my part! In the end they will look great, but after that I'm not sure I'd tackle a job like this again.   
How to Strip Paint off Furniture and Kitchen Cabinets
Words of wisdom for someone remodeling on a budget? Research by reading as much as you can, speak to as many people as you can who have experience in the same type of project you are planning. You'd be surprised at how much you'll learn. Next, plan every detail down to the tiniest budget item. Plan for everything, even down to the little items like screws, caulk, paint rollers and dropcloths. Keep track of the projected budget and the actual amount spent on a spreadsheet.  That way you'll know when there's a little more room to splurge or when to make compromises to cut back.  I wrote a 5 part series called Expert Advice On Home Remodeling that covers lots of important aspects of remodeling like questions to use when interviewing contractors, how to save money DIYing and even how to plan for living through a remodel.  My favorite remodeling project in this house is our contemporary master bathroom renovation we finished last fall. It has all the natural elements I wanted and its unique.
How did you become interested in blogging? I was researching furniture waxes 3 years ago and started reading DIY blogs. I've always renovated and DIY'ed my home as well as spent 10 years managing client properties, designing renovations and updates. We'd just moved into a very run down 1950s waterside bungalow that had been used as a commercial AC company for the past several years. Outside of location, it was a dump. It even had floors from a Shell Gas Station in it!  Our plan was to completely redo everything from top to bottom. I thought it would be fun to share our journey and maybe it would help others.  
Strangest decoration in your house? I have a statue of an Egyptian dog that I've had since my oldest daughter was born.  It's not that small and I know it stands out like a sore thumb, but I'm attached to it.  
Hardest part about blogging? Managing all the behind the scenes work that goes into a running a blog.  It's so much more time consuming that just doing a DIY project, photographing and writing a good tutorial.
Best part about blogging? Creating on a daily basis almost anything I can dream up.  I am much more capable than I was 3 years ago.  I look at a project now as a challenge, and love to tackle new things.  Besides gaining more DIY skills, my other favorite part about blogging is the people. I've made some of the best friends and met some of the nicest people, both readers and bloggers from around the world.  It's been an amazing and wonderful journey.  
Head on over to H2O Bungalow to read the rest of this interview!
Are you a blogger? Apply to the Porch Blogger Program, we can't wait to hear from you!