Kitchen remodeling, whether it's a simple appliance replacement or a total gut renovation, is one of the more popular home improvement projects. The sheer number of tasks performed in the kitchen (cooking, prepping, cleaning) along with the number of appliances make this one of the hardest working rooms in the home and one that sees a lot of wear and tear. Advancements in technology, design trends and lifestyle all serve as motivating factors to kitchen renovation. Homes getting ready to sell often update the kitchen, and it's one of the more popular projects to take on when moving into a new home. We decided to gather some kitchen renovation data so we could see how much money people are spending on their kitchens and where the money is being spent.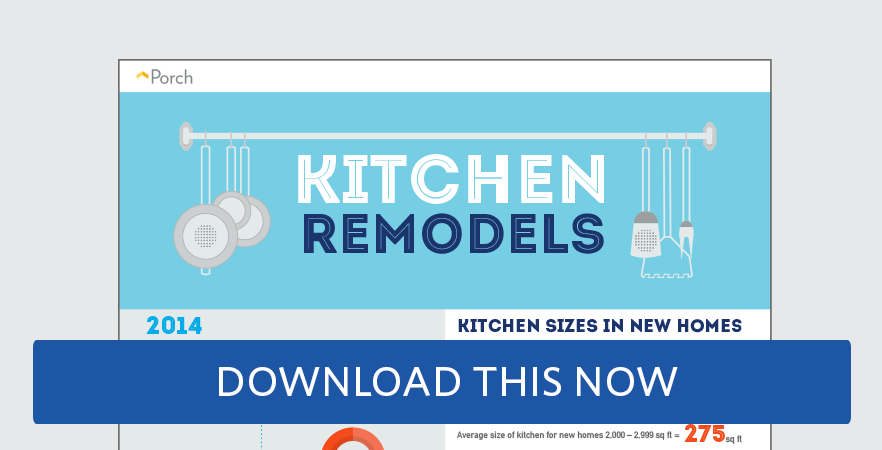 Midrange Major Kitchen Remodel
Remodeling Magazine defines a midrange, major kitchen remodel in the following manner: "Update an outmoded 200-square-foot kitchen with a functional layout of 30 linear feet of semi-custom wood cabinets, including a 3-by-5-foot island; laminate countertops; and standard double-tub stainless-steel sink with standard single-lever faucet. Include energy-efficient wall oven, cooktop, ventilation system, built-in microwave, dishwasher, garbage disposal, and custom lighting. Add new resilient flooring. Finish with painted walls, trim, and ceiling."
2014 Midrange Major Kitchen Remodeling costs
National job cost $54,909
National resale value $40,732
National cost recouped 74.2%
Source: Remodeling Magazine
What is the average kitchen size for new homes?
Average size of kitchen in a new home = 306 sq ft
Average size of kitchen for new homes under 2,000 sq ft = 193 sq ft
Average size of kitchen for new homes 2,000 – 2,999 sq ft = 275 sq ft
Average size of kitchen for new homes over 3,000 sq ft = 423 sq ft
Source: National Association of Home Builders 
How long do kitchen appliances or objects last?
Gas ranges: 15 years
Refrigerators: 13 years
Dishwashers: 9 years
Microwave ovens: 9 years
Compactors: 6 years
Source: This Old House
How long do kitchen materials last?
Kitchen cabinets: 50 years
Cultured marble countertops: 20 years
Acrylic kitchen sinks: 50 years
Kitchen faucets: 15 years
All natural wood flooring: 100 years or more
Vinyl flooring: 50 years
Linoleum flooring: 25 years
Aluminum windows: 15 – 20 years
Wooden windows: 30 years
Source: This Old House
Where does the money go for a kitchen remodel?
Design fees: 4%
Installation: 17%
Appliances and ventilation: 14%
Cabinetry and hardware: 29%
Countertops: 10%
Lighting: 5%
Flooring: 7%
Doors and windows: 4%
Walls and ceilings: 5%
Faucets and plumbing: 4%
Other: 1%
Source: National Kitchen and Bath Association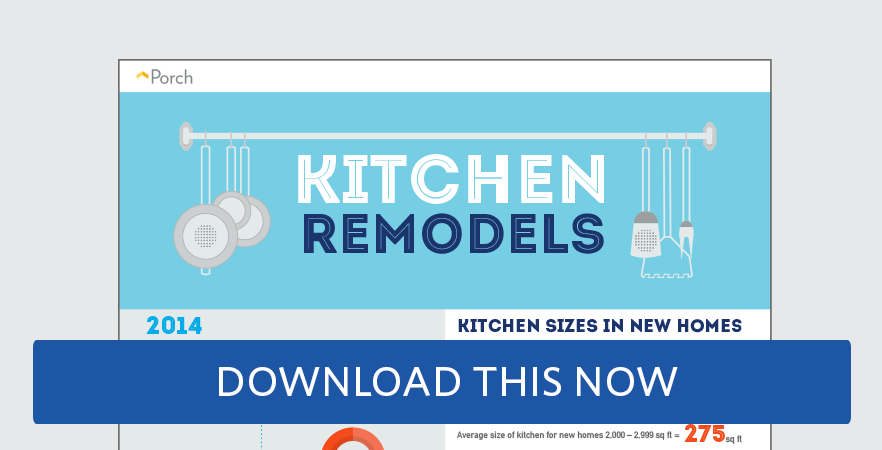 2014 Midrange Major Kitchen Remodeling, Regional Breakdown
Pacific (includes Anchorage, AK, Los Angeles, CA, Sacramento, CA, San Jose, CA, Fresno, CA, Portland, OR, San Diego, CA, Seattle, WA, Honolulu, HI, Riverside, CA, San Francisco, CA, Ventura, CA)
Regional job cost $62,163
Regional resale value $55,020
Regional cost recouped 89%
West South Central (includes Austin, TX, El Paso, TX, New Orleans, LA, Tulsa, OK, Baton Rouge, LA, Houston, TX, Oklahoma City, OK, Dallas, TX, Little Rock, AK, San Antonio, TX)
Regional job cost $50,991
Regional resale value $42,797
Regional cost recouped 84%
East South Central (includes Birmingham, AL, Knoxville, TN, Nashville, TN, Chattanooga, TN, Louisville, KY, Jackson, MS, Memphis, TN)
Regional job cost $51,781
Regional resale value $39,687
Regional cost recouped 77%
South Atlantic (includes Atlanta, GA, Charleston, SC, Fort Myers, FL, Jacksonville, FL, Raleigh, NC, Tampa, FL, Washington DC, Baltimore, MD, Charlotte, NC, Greensboro, NC, Miami, FL, Richmond, VA, Titusville, FL, Wilmington, DE, Charleston, WV, Columbia, SC, Greenville, SC, Orlando, FL, Sarasota, FL, Virginia Beach, VA)
Regional job cost $52,186
Regional resale value $39,761
Regional cost recouped 76%
New England (includes Boston, MA, Hartford, CT, Portland, ME, Worcester, MA, Bridgeport, CT, Manchester, NH, Providence, RI, Burlington, VT, New Haven, CT, Springfield, MA)
Regional job cost $56,878
Regional resale value $42,062
Regional cost recouped 74%
Mountain (includes Albuquerque, NM, Colorado Springs, CO, Phoenix, AZ, Billings, MT, Denver, CO, Salt Lake City, UT, Boise, ID, Las Vegas, NV, Tucson, AZ)
Regional job cost $53,170
Regional resale value $38,156
Regional cost recouped 72%
East North Central (includes Akron, OH, Cleveland, OH, Detroit, MI, Madison, WI, Youngstown, OH, Chicago, IL, Columbus, OH, Grand Rapids, MI, Milwaukee, WI, Cincinnati, OH, Dayton, OH, Indianapolis, IN, Toledo, OH)
Regional job cost $55,547
Regional resale value $37,484
Regional cost recouped 67%
Middle Atlantic (includes Albany, NY, Harrisburg, PA, Philadelphia, PA, Rochester, NY, Allentown, PA, Lancaster, PA, Pittsburg, PA, Scranton, PA, Buffalo, NY, New York, NY, Poughkeepsie, NY, Syracuse, NY)
Regional job cost $56,254
Regional resale value $35,911
Regional cost recouped 64%
West North Central (includes Des Moines, IA, Minneapolis, MN, St. Louis, MO, Fargo, ND, Omaha, NE, Wichita, KS, Kansas City, MO, Sioux Falls, SD)
Regional job cost $54,907
Regional resale value $33,805
Regional cost recouped 62%
Source: Remodeling Magazine
Top image credit: NB Design Group