Choosing a cabinetmaker, or finding the right cabinets for your home, can be a daunting task. There are many decisions as to materials, styles and design. Fortunately the professionals at Salmon Bay Woodworks shared with us some expert advice. Whether you are building a new home or doing a remodel, here is some helpful information regarding woodworking.
There are so many choices with cabinetry these days. Tell us about recent changes in material options for consumers.
Green material choices including finishes have come a long way in recent years, and are becoming more affordable and available every day.  Hardware choices have also improved.  There are a dizzying array of options, and in working directly with your cabinetmaker, you may find that there are options available that you may not be familiar with, that can improve the functionality of your kitchen.  While the latest and greatest will most likely add cost, it might be less than you think.  You will be using your new kitchen for many years, so, in the long run, they might add a relatively small cost for something that you use every day.
Is it worth the money and time to seek out naturally sourced materials or "green" cabinets?
It depends. The price may be higher for these cabinets, but the environmental costs may be lower. If sustainability and environmentally responsible purchasing decisions are important to the homeowner, then yes, it is worth the extra effort. Indoor air quality is are a very important consideration. It is hard to put a price on the health of your family.
Cabinet prices vary quite a bit. Why should I consider spending more on custom cabinets?
Think of cabinetry as permanent furniture for your home. Cabinets that are well made will last a long time and add an overall return on your investment while enhancing the overall beauty of your home. Knobs and pulls are easily interchangeable, but the cabinet itself is not.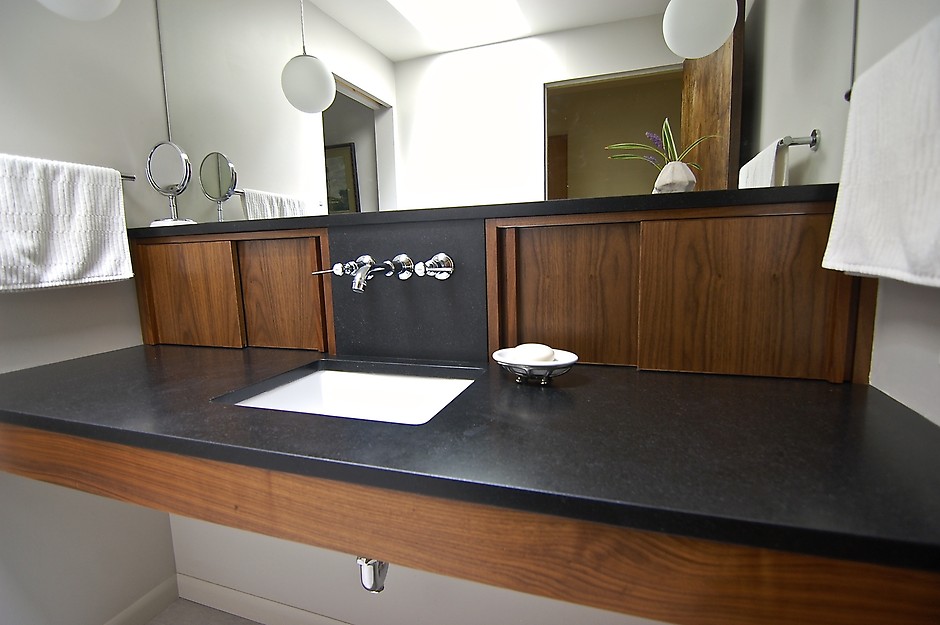 For homes that require custom cabinetry, what type of decision-making goes into the planning and design? How much time do you spend in the design process prior to making the cabinetry?
The design phase is when all of the important functional decisions need to be made, from how the finished project will look, to which materials and finishes will be used. Once all of those questions are answered, we can build the project exactly as the customer has envisioned it. The time spent on this phase will vary depending on the project and the person, but it is the best and most affordable time to make changes.  It becomes more expensive, and the project will likely suffer if changes are made on the fly once construction begins.
Is there a reason why I should have my cabinetmaker also install the cabinets? Are there pros and cons to this?
Typically the general contractor will decide who installs the cabinets, and very often the contractor will have his own crew do the installation.  Some cabinet shops do their own installation, and others do not.  The cabinetmaker will always be a good choice for the installation, if it is a service that they offer.  Once you have chosen your contractor, it is a good idea to trust him on his recommendation of cabinetmaker.  He will likely have worked closely with this shop over time, and his crew will know what to expect and how to install the cabinet package and guarantee the quality you expect at the lowest cost.
Aside from looking at a portfolio of work, how do I know if a cabinetmaker is good? What are some questions I should ask prior to hiring?
You should ask which types of materials are used, and how the cabinets will be assembled. A solid design is necessary to the success of your project.  Before fabrication begins, and very clear set of drawings must be generated.  Whether you are working with an architect, designer or directly with your contractor, make sure you have the final design worked out on paper up front.  Ask to review the shop drawings generated by the cabinetmaker to ensure that both parties are on the same page. If the cabinetmaker will be doing the installation in your home, be sure that they are licensed and that insurance and bond are current.
What makes Salmon Bay Woodworks stand out? What do you do that makes you different?
We are unique in that we are a general contractor as well as cabinetmakers.  This allows us to run our own projects and do our own installations.  We work with architects, designers and other contractors on a regular basis and believe that collaboration with others of like mind in our industry tends to generate great results.  We believe that using sustainable materials practices and do so locally allows us to provide a product that is better for your home and the world at large.
Top image credit: Salmon Bay Woodworks