Are you feeling dissatisfied with your current home décor, but not sure what needs a change?
Before you swap out the furniture, paint your walls, or upgrade your floors, it's important to make sure that your current lighting plan is one that complements your home style.
Lighting has the ability to make or break the look and feel of your home. Without the right lighting, focal points, architectural details, unique textures, and even gorgeous colors can get lost.
The key to a good lighting plan is a layered approach that combines three types of light: Ambient, task, and accent lighting. Here's how to use all three to make your home shine.
Ambient lighting
Ambient lighting provides an area with overall illumination. Also known as general lighting, it radiates a comfortable level of brightness without glare, and allows you to see and walk around without tripping over things. Ambient lighting can be accomplished with chandeliers, ceiling, or wall-mounted fixtures, as well as recessed or track lights. Having a central source of ambient light in all rooms is fundamental to a good lighting plan.
Design Tip: For recessed lighting, consider the size of your fixtures to determine appropriate spacing. A common rule is that four-inch fixtures should generally be placed at least four feet apart, and six-inch fixtures about six feet apart.
A decorative chandelier or hanging foyer fixture can provide significant illumination while serving as a beautiful focal point for living areas.
Commonly used for task lighting applications, with a little creativeity, you can also use pendants for ambient lighting. Designer Doris Pearlman with Possibilities for Design used Progress Lighting's Bay Court pendants to create a stunning spectacle that beautifully lights this great room.
Task lighting
Task lighting helps you perform specific tasks, such as reading, grooming, cooking, or playing games. You can create it with pendant lights, low-hanging track lights, and under-cabinet lighting. Task lighting should be free of distracting glare and shadows, while bringing the source of light to exactly where you need it.
When determining the best applications for task lighting, consider the function of the room. What activities will you be performing that require direct lighting? The rooms where task lighting is imperative are the kitchen (where you'll need counter lighting to enhance kitchen safety when using knives and the stovetop), and the bathroom (where you'll need adequate light to complete everyday tasks such as shaving an putting on makeup).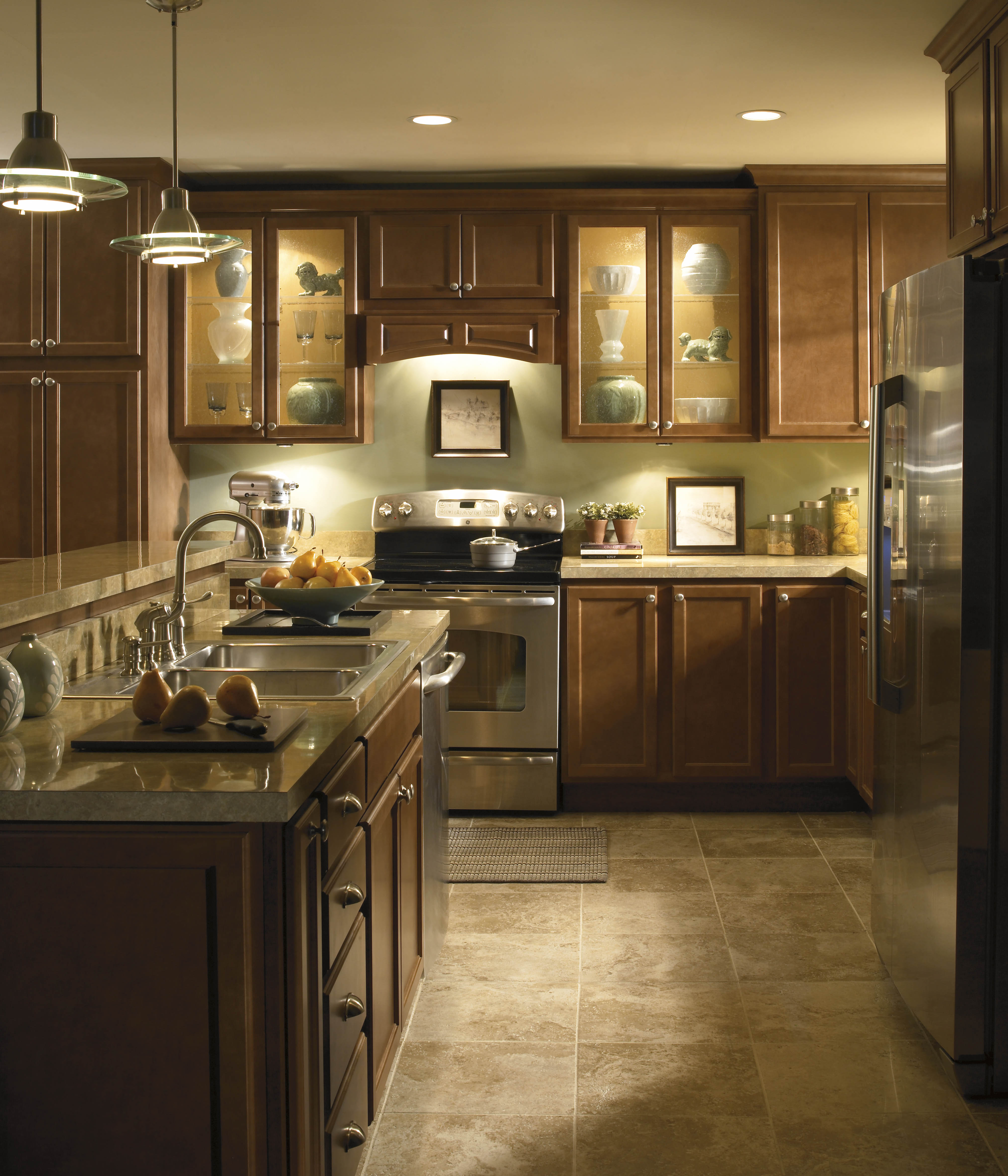 Under-cabinet fixtures are very functional additions for turning your counter tops into usable workspaces. Under-cabinet lighting is available in a variety of options for different applications, including LED lights, puck lights, linear lights, and tape lights.
Design Tip: The key to lighting your bathroom is to provide shadow-free task lighting at the mirrors. In addition to an overhead vanity light, add side sconces with a companion close-to-ceiling light to reduce shadows on the sides of your face.
Focus pendant lights on a specific work area, such as over a sink or island. One small pendant may be sufficient for certain task applications. For larger spaces, consider placing pendants in a row at equal heights for a clean, contemporary look.
Accent lighting
Accent lighting adds drama to a room by creating visual interest. As part of an interior design scheme, it is used to draw the eye to key features such as houseplants, paintings, sculptures, and other focal points. Accent lighting can also be used for your home's exterior, such as to highlight the texture of a brick wall, a window treatment, or a landscaping feature.
To be effective, accent lighting requires at least three times as much light on the focal point as the general lighting surrounding it. Accent lighting is usually provided by recessed and track lighting, or by wall-mounted picture lights.
Track lighting with moveable track heads is perfect for highlighting wall art while also creating depth to the room layout.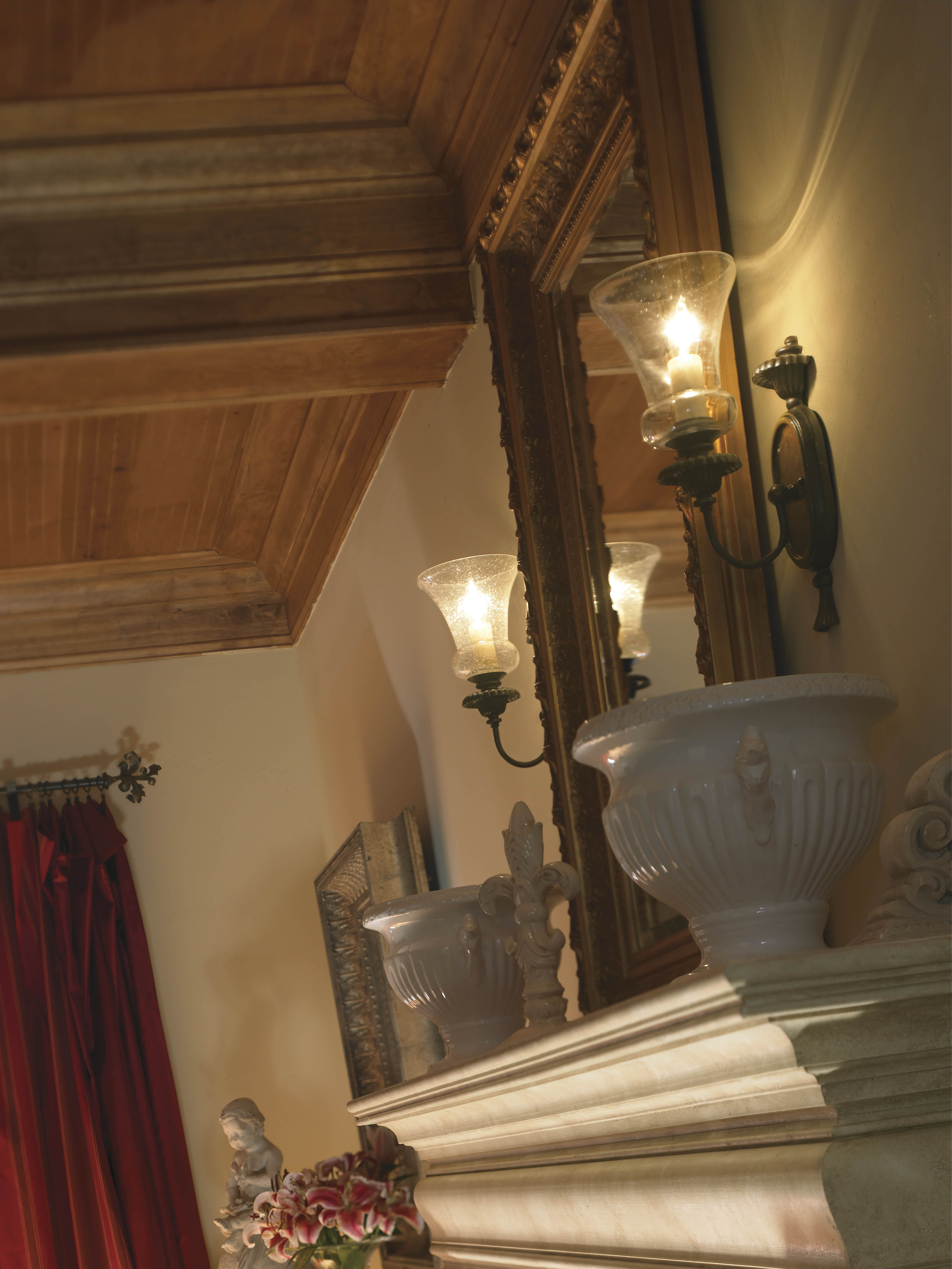 Wall sconces can also be used for accent lighting. Here, a uniquely shaped shade casts interesting details on an otherwise bland wall.
One of the most versatile fixtures, pendant lamps can be used for accent lighting as well, especially to highlight favorite pieces on tables and shelves. Select a pendant style that reflects your décor. Modern pendants made of glass exude sleekness, while a shaded mini-pendant creates a classic look.
Depending on the application, the same type of fixture can be a fit for all three categories of lighting. Don't be afraid to think outside of the box and move away from traditional molds when it comes to creating a layered lighting plan. Try a chandelier in the bathroom, pendants in the living room, or a recessed fixture in the shower. The most important thing is that you love the layout and design of your home, and are able to perform everyday tasks with simplicity and ease.