We asked Heather from Setting For Four
 16 quirky questions! This inspiring Interior Decorator and Freelance Writer dishes on everything from her biggest DIY fail, to the worst home trend. Head on over to
Heather's blog
 for the rest of this interview, and for some great DIY projects!
What's your DIY weapon of choice? Wow – it's so hard to choose between my paint brush, table saw and glue gun!! I'd have to say paint brush…..there are so many beautiful colors of paint and it's an instant easy way to update a room or refresh a piece of furniture (like my Chalk Painted table makeover)!
If your walls could only be painted one color for the rest of your life, what color would they be and why? Sherwin Williams Mindful Gray – hands down, it's my favorite wall paint color, ever! It's a gorgeous warm gray, a beautiful neutral that goes well with every other color. We painted our living room, family room, dining room and hallways with this color, it's  that gorgeous!
What are 3 words to describe your blog?  Inspirational, Decor, DIY.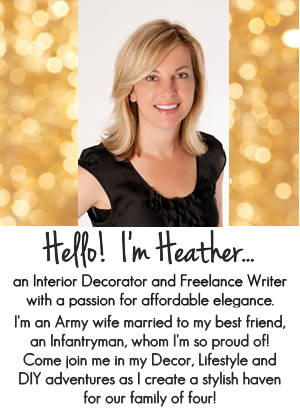 Tell us about a time when you had a DIY fail (we've all had them!) Oh I've had many!! I'd have to say my biggest DIY fail was the time when I attempted to make a coffee filter wreath – remember when those were all the rage a couple of years ago? Well, I used too small a wreath and my version ended up with no hole in the middle and was just a big blob of crumpled coffee filters! It was really tragic looking!
How did you name your blog? In fact, I wrote about this on my blog 'My Story'! When I started blogging in 2011 my military husband was away 11 months of every year and we were posted to a new city where I didn't know a soul and had no family ..it was very stressful and lonely for our two boys, for all of us. The name 'Setting for Four' came from those extended and frequent separations that we were experiencing as a family…..I would always set our kitchen table with 4 place settings during meals, even when my husband was away….it made us all feel like he was still at home 'in spirit', part of our family meals, part of our lives, even when he physically wasn't.   It gave, I hope, our two boys a sense that even though Dad was away, they could be comforted by knowing his spot was still at the head of the table, his 'spot' in their lives, as their Dad, was still there. So out of a situation of difficulty and challenge, Setting for Four turned into a journey of joy, fun and great personal reward.
Strangest decoration in your house?  I don't think we have anything strange in our house!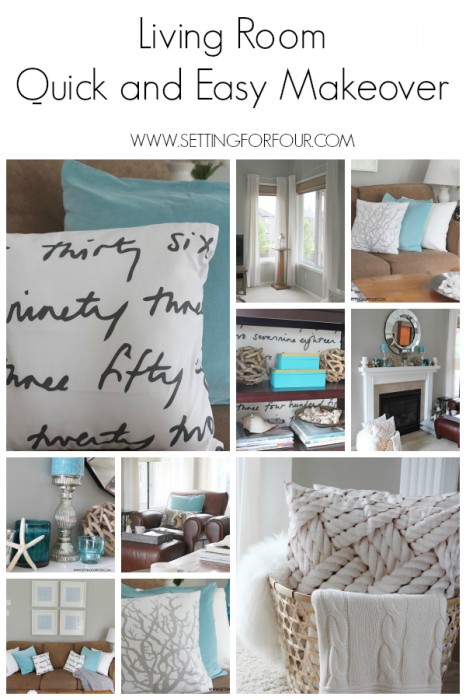 Quick and Easy DIY Living Room Makeover
Hardest part about blogging?  I'm a social person so working from home can honestly be a bit lonely – I miss the face-to-face interaction that I had when I worked in a corporate environment; that's why I love attending blogging conferences and hanging out with my bloggy friends any chance I get!
Best part about blogging? Being my own boss, setting my own hours, being able to spend my time doing what I truly love to do….and being able to share it with others! Bogging is so rewarding to me on an emotional and intellectual level – there is so much to learn and so many ways to grow!  Receiving comments from readers that they love to spend time with me, they've learned a new tip that helped them – it's so amazing to get feedback like that from people who have the exact same interests as me!! Blogging has given me a place for me to help others with personal decor and design questions too – I just started offering online decorating services!
Want to see more from Setting For Four? Check out her blog, and be sure to follow her on twitter @SettingForFour!
Have any bloggers you'd love to see featured? Drop us a line in the comments section below, or email Taylor at taylorh@porch.com.