We asked Nancy from Artsy Chicks Rule 16 quirky questions! This East Coast blogger dishes on everything from the best project to tackle on a budget, to her biggest DIY fail. Head on over to Artsy Chicks Rule for some great DIY projects, and to read the rest of this interview!
What's your DIY weapon of choice? Paint. I love paint. I love what paint can do and I love how paint can totally transform just about anything!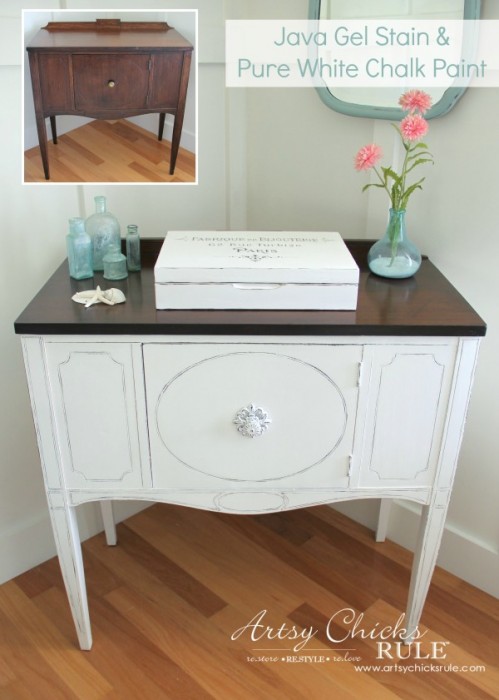 White Chalk Paint Makeover via Artsy Chicks Rule 
What are 3 words to describe your blog? Thrifty, Repurposed, Inspiring.
Tell us about a time when you had a DIY fail (we've all had them!) Oh, I've had more than my fair share! I will say, a big one we had was when we tried to refinish our bath tub with one of those refinishing kits. (this was a few years before blogging) It didn't hold up and ended up peeling off. That is definitely a job left to the professionals …or just pull that tub out and replace.
[flipagram id="TE9vlXDDQq"]
Words of wisdom for someone remodeling on a budget? Do it yourself if at all possible. Most things are surprisingly do-able. Tackle the small things, sub out the larger things such as plumbing, electrical if you are not comfortable doing those. That will at least cut some of your cost.
How did you become interested in blogging? I love painting and DIY projects for the home. I also love being thrifty and decorating that way too. I've always done that. I decided I wanted to share what I knew and what I had learned along the way. I wanted to share how simple it really is to do some of the DIY projects in your own home to save money. And I wanted to share how to decorate your home on a budget but not have it look as though you did.
DIY Tufted Ottoman via Artsy Chicks Rule
Strangest decoration in your house? Not really strange, just different. I created "shutters" out of old bi-fold doors. I attached them on either side of my french doors to look like a shuttered window.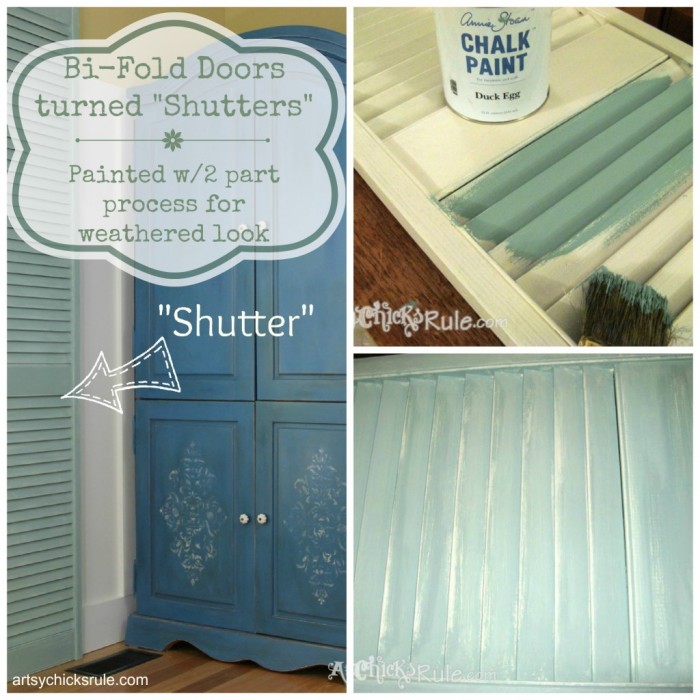 Bi-Fold Doors Turned Shutters via Artsy Chicks Rule
Hardest part about blogging? Easiest part…coming up with the creative ideas. The hardest part …implementing those ideas, then photographing, editing the photos, writing the blog posts and promoting them through social media. I LOVE blogging but who knew it was so time consuming? I sure didn't. But I do believe anything you love that is worth having is worth working hard for!
Best part about blogging? The best part would have to be the interaction with readers, friends I've made along the way (bloggers and readers) AND when a reader writes to me to tell me a project of mine inspired them to create their own. That's the best…and the whole point of the blog.
Want to see more from Artsy Chicks Rule? Check out Nancy's blog, and be sure to follow her on twitter @artsychicksrule!
Have any bloggers you'd love to see featured? Drop us a line in the comments section below, or email Taylor at taylorh@porch.com.