Simple updates to your bathroom can go a long way, whether you are getting ready to sell your home or simply need an inexpensive redesign. From a fresh coat of paint to updating the countertops, you have plenty of affordable options. Research shows that the more effort you put into getting your home ready for sale, the faster it will sell and the more likely you will get what you ask for. So, if you want a bidding war to happen over your listing, it's time to see what updates you can do that won't break the bank.
1. Repaint the bathroom
You won't need a lot of paint for the bathroom and that fresh coat will give the room a whole new look. Opt for a neutral color that is easy for the buyer to picture their own style in, such as light gray, beige or white. For humid rooms like bathrooms, choose a semi-gloss or satin finish. Project cost: about $30 for a gallon of paint, covers 350 square feet.
2. Swap out the faucet
Faucets for a bathroom can run anywhere from $19 up to $200. You don't need a fancy new faucet to get the attention of the buyer. Just update to something new, modern and that suits the bathroom. Faucet swaps are not only cheap, but they're easy to do. In fact, if you have 15 minutes, you could change out your faucet today and give your vanity a fresh new look.  Project tip: To save having to drill new holes, bring your old faucet to the hardware store and find a new fixture with the same hole placement.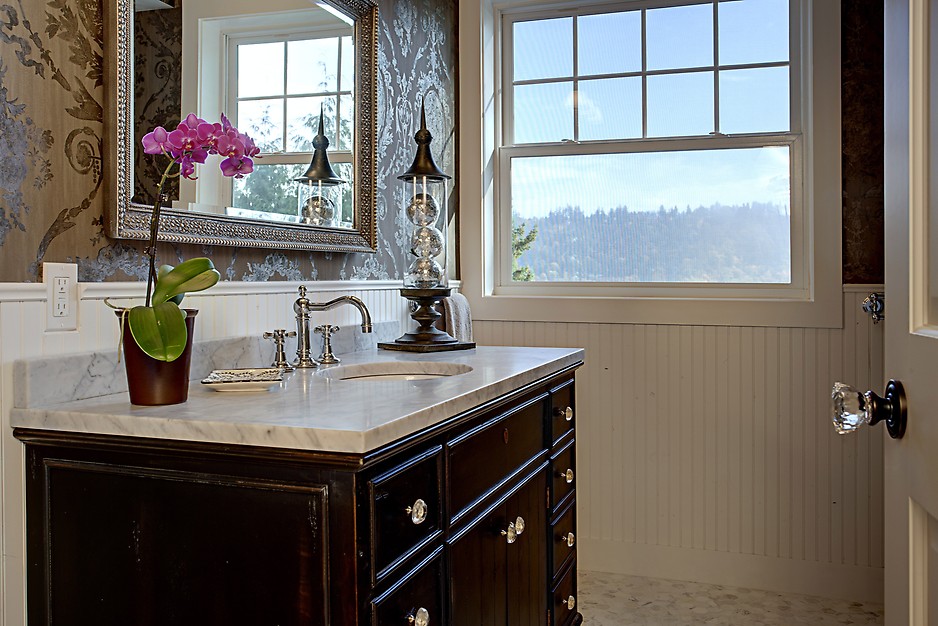 3. Add wall accents
Board and batten or bead board are easy wall accents that make a big difference. Home improvement stores carry sheets that you can adhere to the wall and accent with chair rails and molding. The project does take a little time to measure and paint, but the difference it makes is well worth it. And you can easily add beadboard for under $200. Project cost: about $20 for a 4'x8′ sheet of bead board, plus paint and supplies.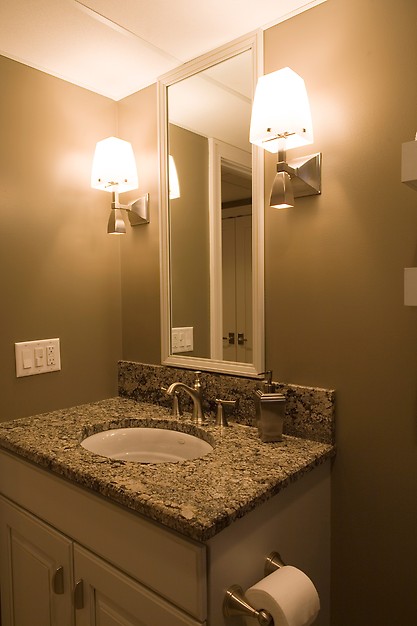 4. Change out the vanity
You would be surprised at how affordable vanities are. In fact, you can find a contemporary vanity for under $200 at your local home improvement store. If you are looking for something more designer-grade, check out clearance houses or local sales. You can even update the sink if it is included in the price of the vanity. Project tip: take careful measurements of your current vanity so you don't have to do any major renovating.  
5. Buy a new shower curtain
Look at your old shower curtain. Is it dingy? Moldy? Just changing out your shower curtain can make a difference in the bathroom. Go for one that is neutral so that it opens up the space and purchase both a clear inner lining and a decorative outer lining. Avoid busy patterns and too bright of colors if you can. If you want to add personality, but still keep it neutral, try a textured shower curtain. Project cost: about $20 for a new curtain. 
Top image credit: De Meza + Architecture, Inc.