We'd hazard to say that a home makeover is way more impressive than the fashion world equivalent. A house is way more difficult to "dress" than a person, for starters. You can pretty much sculpt whole new facial features using makeup, but there's only so much paint can do in an interior (anyone who's tried to use color to distract from an unsightly popcorn ceiling will agree on this one).
While we can't get enough of the designers and architects who style homes day in and day out, we seriously applaud those who take the DIY approach—especially when they blog about it. We've rounded up a few of our favorite bloggers who specialize in renovations, remodeling, furniture projects, and everything else. Check them out, then let us know if we've missed anyone. We're itching for more inspiration.
Brittany Bailey's blog runs the gamut between craft ideas and more in-depth projects. Don't miss her primer on what to have in your toolbox.
As the name would suggest, ManMade is geared towards guys (specifically, "the postmodern male"). Yet, the furniture ideas (which channel a vintage aesthetic) will appeal to anyone, regardless of gender.
This blog leans towards a more contemporary aesthetic, with plenty of furniture plans and décor ideas that will give your home a little more edge. Plus, there's the occasional recipe for things like booze popsicles.
This Alaskan mom turned her carpentry blog into a thriving online community of builders. If you have a full tool chest or have never so much looked at a level, get ready to have more ideas than you'll have time to do.
Kate Riley has an eye for creative, budget-friendly ways to update your home. If you're short on ideas, Riley's blog is a good place to start: She's got over 1,000 of them.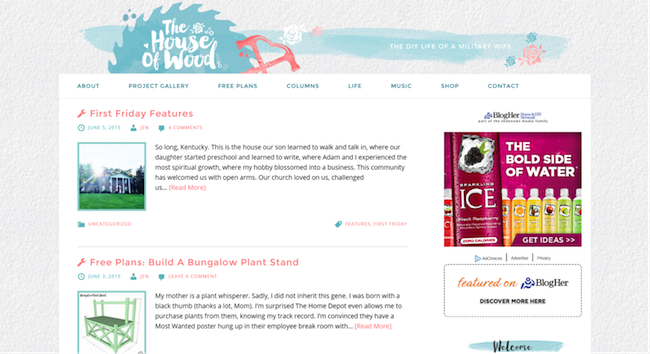 This professional musician/woodworker/designer has an enviable creative life. Check out her free, downloadable plans, which will teach you how to make nightstands, dressers and more.
Décor is the specialty at Vintage Revivals, which started from blogger Mandi Gubler's attempts to decorate her Utah home. We shouldn't say "attempts," because her lovely house is filled with the fabulous projects covered through her many extensive tutorials.
Learn how to make rustic furnishings at this authoritative site, which is heavy on the wood. You'll find plans for everything from farmhouse tables to cute baby furniture.
This delightful blog is named for a particularly challenging home – the "ugly duckling" that's in the process of being updated. What's especially inspiring is how neglected the property was, along with blogger Sarah's dedication to updating it all by herself.
Cassity and Justin are the couple behind this blog. They are – you guessed it – remodeling addicts. The best part, though? They've created a beautiful home on a shoestring budget.
This blog details the process of bringing an old farmhouse back to a stunning new life. There are tons of rustic décor ideas, along with down-home recipes.