In 1924 famed Bauhaus architect Mies van der Rohe drew up plans for the Brick Country House. It was never constructed but the possible location would have been Neubabelsberg, Germany.  "With this project Mies introduced a new conception of architectural space. Though not entirely of his own invention, he was able to give it a clarity to became "Miesian." Individual rooms are no longer the units of composition; instead individual wall planes are freely arranged and space flows continuously between them." (1)
Fast forward to 2001. An idea was hatched by another famed architect, Richard Meier, and developer Coco Brown, to create a series of modernist homes in the town of Sagaponack, NY, as a rebuttal against the cookie cutter mega-mansions that populate The Hamptons. The Houses at Sagaponac have endured its share of controversy. Although there have been several starts and stops to this development it appears as though a new group of architects have been tapped to start building additional homes.
One of The Houses at Sagaponac was based off of the 1924 Mies van der Rohe design. Re imagined and executed by architect Dean Maltz, the old plans were tailored with a variation on the materials. He describes:
"An improved version of the prefabricated Furniture House System was employed. The spatial concept of the design divides the building into four separate zones. Each of these four zones is enriched by an individual garden that integrates the interior with the surrounding landscape. The house?s construction components are modular, nine feet floor-to-ceiling furniture units that act as elements of structure, spatial division and storage. During construction furniture units work as a flexible system in which two people can move, position and install each piece. "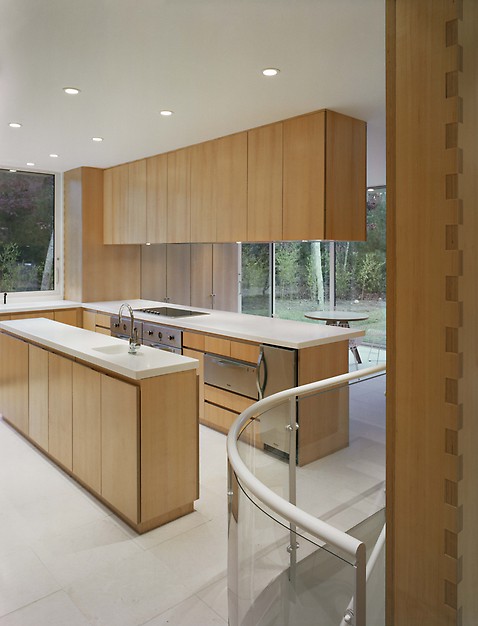 Be sure to see all the images on Porch of this beautifully modern, vintage home design.
All images courtesy of Dean Maltz