Porch is in the business of home improvement; the motto is "love your home." So it is no wonder that they applied the same obsession with beautiful products into their new office space. Led by Porch Editor-in-Chief, Anne Reagan, and Director of Creative, Jake Cooney, an environment was created that employees could build the next biggest product in home improvement and call home.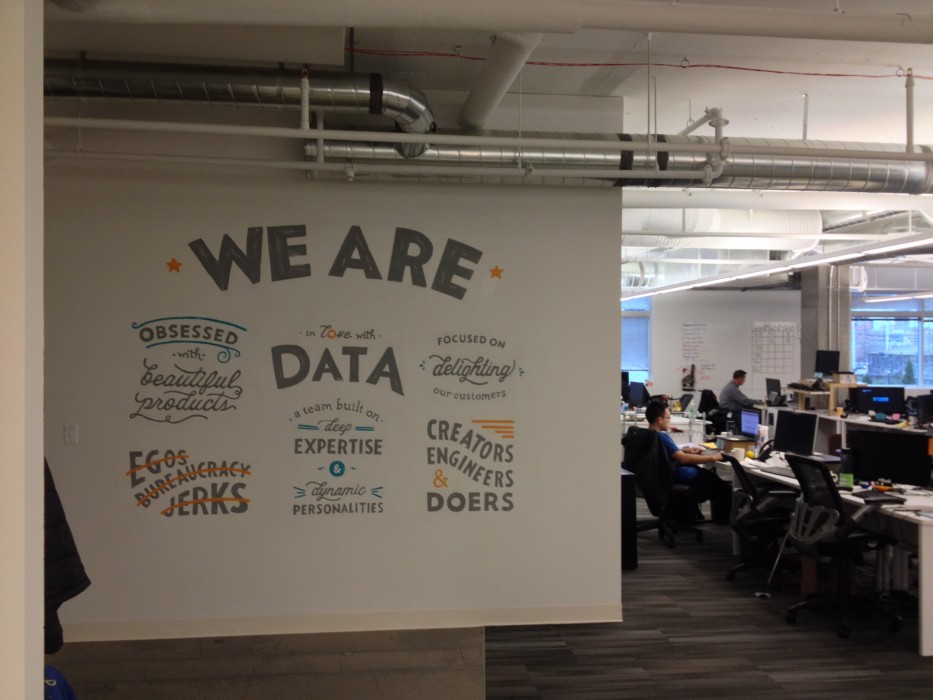 Name of project: Porch.com World Headquarters
Location: Eastlake neighborhood of Seattle
Size: 17,000 square feet
Planning time: 3 months
Construction time: 10 weeks
Move-in time: 12 hours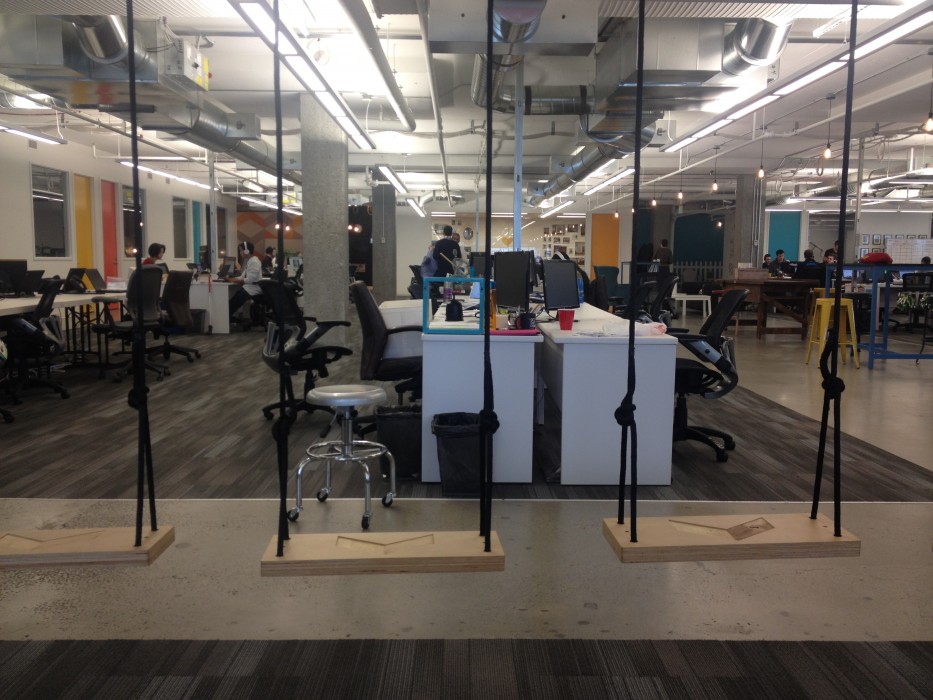 When plans were initially drawn up Porch had less than 30 employees. Meetings were no larger than 5 people. The kitchen was a small dorm fridge and a microwave. By the time they moved in to this new space Porch had over 100 employees and their growing data needs, meeting areas and facilities needed to be incorporated into the new space. "On paper it's easy to move walls around and create spaces that you think will be large enough to meet all the functions of company. However, as our company grew, it was a constant challenge to think about how we could maximize our space," said Porch CEO, Matt Ehrlichman. Not only did spacial needs change, the aspect of an open-planned space, with only one small closet, presented a unique issue. "Finding enough room to store the office equipment, food and supplies (which was growing into larger piles every day) was a fun challenge," joked Jake.
Stepping into the new space is like stepping on to a classically familiar front porch. There is no formal reception area but rather a reclaimed, whitewashed, wood-clad wall, white porch rockers and a handmade white picket fence. Hand-painted on the wall are the Porch core values, carefully distressed by resident Junior Designer, Kellie Komorita. The overall color scheme of the office reflects a modern look and feel, reminiscent of the Porch website. Bold colors are peppered throughout the mostly white and grey space and an industrial feel shows the innards of the 1950's building, formally the headquarters of the Bill and Melinda Gates Foundation.
The new space, which is open and airy, has no private offices with the exception of the Human Resources manager.  "We always want to be a company that provides transparency and open communication. It was really important that our office design reflected both our corporate culture and our approach to the home improvement market, " said Matt. Meeting rooms are each decorated differently and feature a giant Porch logo each designed with a different pro type theme. Open collaboration areas, scattered throughout the space, are furnished with vintage workshop benches, industrial stools, and pieces that feel both lived-in and comfortable. Handmade swings offer a fun huddle-up area. A "porch" collaboration area showcases outdoor furniture, garden lights and vintage glass windows that serve as marking boards during meetings. "We wanted to create conversation with our space and allow multiple ways for people to move around. Changing up the seating style and mixing in antiques help change our focus and gives us a nice mental break from the computer screen," said Anne.
A large conference room, bathed in the same sunny yellow as the Porch logo, feature actual project photos found on Porch and are arranged living-room style on the wall. The large back room is reserved for the kitchen (with a fully stocked fridge and snacks), vintage Hofbräuhaus beer garden tables, custom cornhole game, ping pong table and comfortable vintage Chesterfield sofa. The long wall is painted with the company's branding colors in an oversized paint-chip pattern. Photos of employees, along with their favorite movie, are hung under "The Crew" signage. Areas slated for creating a company scrapbook and highlighting goals and accomplishments bring home the community aspect to Porch.
Throughout the space references are made to home improvement and construction. Hard hats are given to each new employee, vintage tool boxes show decades of use on the job, and numerous how-to books line the bookshelf. Furnishings were found and obtained not in the typical corporate manner but rather much like a homeowner would source furniture for their own home: store by store. Vintage markets, salvage yards, thrift shops and big-box stores were all utilized to complete the cohesive yet eclectic look. With the exception of the desks, all the furnishings were found off-the-shelf. "Each piece has a story behind it and I was always out hunting for that special item that would fit into our Porch culture," said Anne. "My car drove many miles and hauled a lot of goods!" Hardware stores were combed for pieces that could be used as decorative items, like the giant metal piece of duct work that serves as the kitchen fruit bowl. Office supplies are kept in metal paint pans and nail buckets.
Aside from the breathtaking views of the Space Needle, Lake Union and float planes, the other unique view is into a rather uncommon site: an adjoining, unoccupied and unfinished space. Glass windows separate Porch's finished office from this unfinished space, allowing for additional light to enter. "It's a little unexpected to look at this raw space every day however it aptly reminds us of our core business: improving spaces. What a better representation of this than an actual construction site!" said Matt. Porch is eyeing this unfinished space for future expansion.
Although the build-out and construction was performed by professionals, the decorating was performed by Porch employees. Nearly everyone rolled their sleeves up to make this space work within the short build-out time and limited budget. Employees helped hang photographs, paint, hammer nails, and assemble furniture. "Anyone with any skill set was eventually dragged into this," laughed Asha Sharma, Chief Marketing Officer at Porch. "But to look around and see it all come together in a short amount of time, and with a scrappy budget, made it all worth it."
There were a few interior design projects that had to be left to the pros. Paulino, owner of Rain City Services, was hired to install the wood entrance wall and a brick veneer wall. "I actually searched for a handyman on Porch and Paulino's name came up first. We were happy to bring his expertise to our space," said Anne. Employing a pro for some of the technical elements helped save time and ensured a perfect end result.
Porch worked with a talented group of architects, builders and contractors, all of whom were instrumental to the success of the space. Porch would like to thank JPC Architects, BNBuilders and all the other professionals who helped create this amazing office.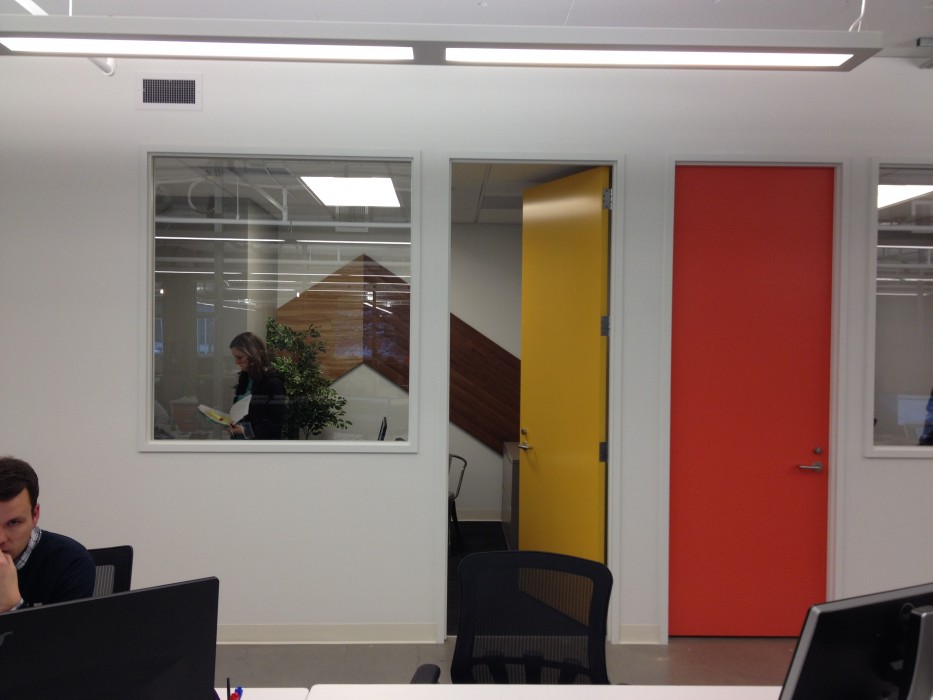 "Our new office space truly reflects the spirit of our employees and the dedication we have to our product. We're excited that we can offer our employees something uniquely different in the competitive world of tech start ups," said Asha. The fact that Porch is located right on Lake Union and has an amazing roof deck, complete with bocce ball court and outdoor kitchen, helps make all that hard work worth it.
This time-lapse video, shot over a period of about two months, demonstrates how our office came to life. Video producer was Jake Cooney. All images courtesy of Jake Cooney.
We'd like to thank the following suppliers and vendors:
Swings, Cornhole Game, Beer Keg Pull: Cody Lamens, EllaMenoPea.com
Office Desks: Casey Kelly, Smart Office Environments
Vintage furniture: District, Pacific Galleries, Second Use, Earthwise Salvage
Storage & Organization: The Container Store
From all of us at Porch,
Onward!