We've all been there: you start out with the best of intentions to keep the entryway neat and clean.
But a week later, that tidy little space is a heap of junk mail, sunglasses, and discarded outerwear that you're frantically shuffling through as your search for your lost keys.
If you dream of a clean and pretty landing pad for your front door, then these eleven entryways will give you all the inspiration you need to make that dream come true. Check out these ideas for a super-organized entryway, and make this the year of the entryway in your home!
1. Corral kids' stuff
Kids come with a lot of bits and bobs that love to end up on the floor. Create a space for coats, boots, and scarves with hooks and cubbies to help kids put their stuff in its proper place.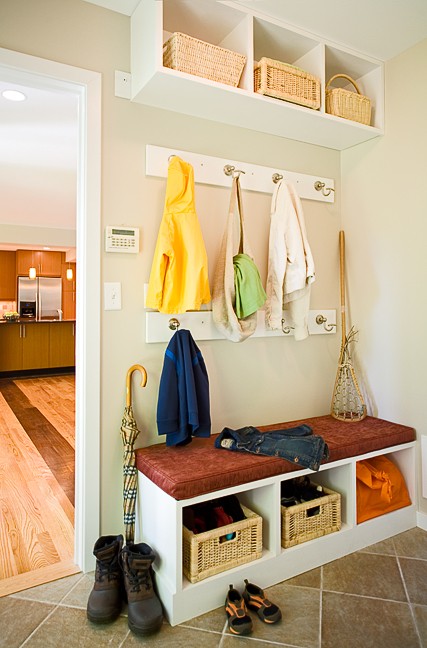 Project completed by Wentworth, Inc.
2. Give baskets their best use
A row of baskets tucked under a bench creates an instant receptacle for shoes, scarves, and other odds and ends to be placed neatly out of sight when not in use.
Project completed by Carlisle Wide Plank Floors
3. Add a decorative touch
Even organized clutter can look a little busy without thoughtful design touches. Keep entryways looking intentional with a display of fresh-cut flowers.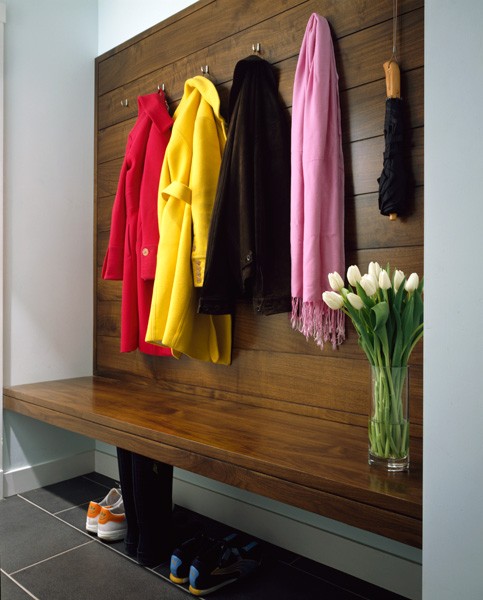 Project completed by Coburn Architects PC
4. Use small space for big pattern
Go ahead and wake up the walls with that vibrant wallpaper you've been dreaming of. In such a small space, it's just the right dose of pattern.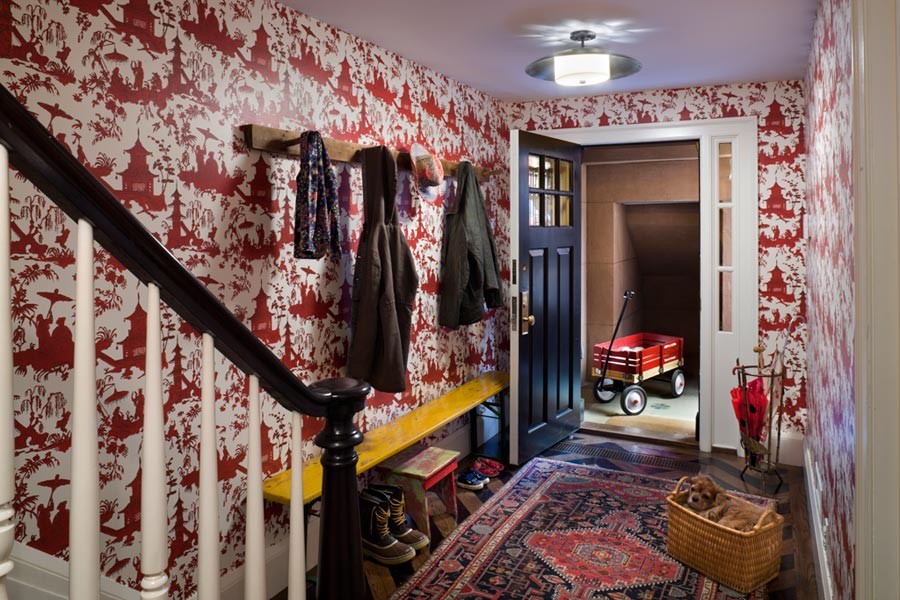 Project completed by Coburn Architects PC
5. Make a mess magnet
Outfit your entryway clutter-catcher in bright color to attract the eye and define where mess belongs.
Project completed by Core 10
6. Use what you have
A plain entryway can be converted to a mudroom with a simple built-in addition.
Project completed by Foley & Cox Interiors
7. Get personal
A mudroom is the first thing you see when you come home, and the last thing you see when you leave. Create a special space in your entryway for reminders, homework, and notes to loved ones.
Project completed by Renovation Design Group
8. No home too small
Even a small entryway has room for a mini vestibule for taking off and storing hats, scarves, and shoes. Copy this faux built-in look without having to knock out any drywall.
Project completed by Rossington Architecture
9. Out of the way
You don't have to put your organization space by the front door. Putting a mudroom in the basement redirects traffic and clutter, and keeps the front door lovely for guests.
Project completed by Anna Berglin Design
10. Simple solutions
An organized entryway doesn't require built-ins. Create a chic transitional space in your home with nothing but a bench, some wall pegs, and an umbrella stand.
Project completed by Siemasko + Verbridge
11. Keep it separate
To keep messes in their place, give each family member their own cubby and hook. Their knick-knacks will stay in one spot, and you can relax.
Project completed by Wentworth, Inc.
Top Image Credit: Wentworth, Inc.
What are your tips for an organized entryway?